The Very Best Foundations for Your Skin
The Very Best Foundations for Your Skin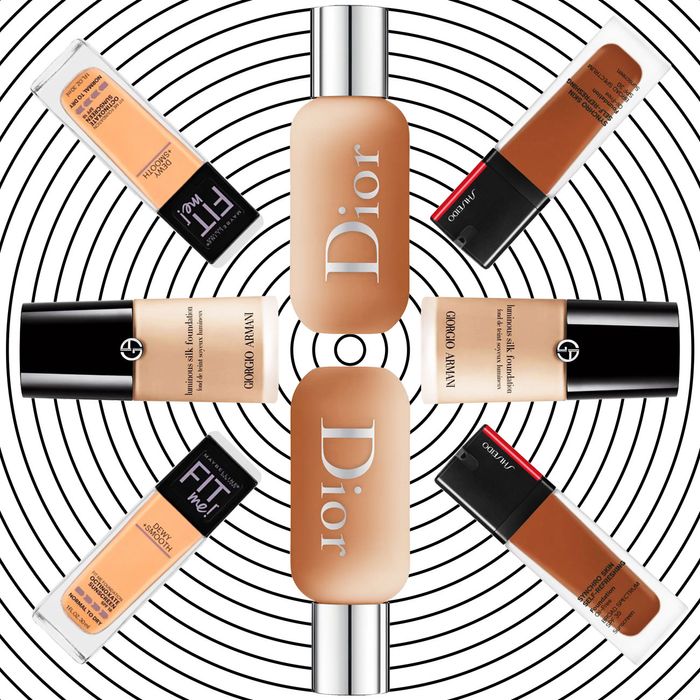 Photo: Courtesy of the Retailers
Why is your skin so good? A dedicated skin-care routine certainly helps, but sometimes a really good foundation is the unsung hero behind that pristine glow. Foundations have come a long way from the days when they could all be described like pastries ("cakey," "flaky," "powdery"). Today's formulas have nailed that your-skin-but-better finish, and the 15 below are the best of the best. Whether you're looking for full coverage or a no-makeup-makeup filter, these foundations will leave you feeling confident — and looking like yourself at the same time.
The Best Drugstore Foundation
Maybelline Fit Me Matte + Poreless Liquid Foundation
This is the internet's overwhelming favorite drugstore foundation. The reviews are extensive (over 3,000 on Ulta and over 11,000 on Amazon), and they're all full of compliments. People praise its varied shade range (it has 40 options, just like Fenty) and its long-lasting and smoothing abilities. Even though it has a matte finish and will conceal blemishes quickly, it won't make your face look like plaster. Plus, it's very affordable.
The Best Luxury Foundation
Giorgio Armani Beauty Luminous Silk Foundation
If money is no object, this is the best foundation you can buy. It's velvety smooth, blends seamlessly into skin with zero stickiness, and makes your face look pretty much perfect in a natural, well-hydrated, person-with-disposable-income-for-pricey-skin-care-products kind of way. Though it's regularly used by makeup artists for red-carpet appearances, its application is surprisingly foolproof for the rest of us, too.
The Best Long-Lasting Foundation
Fenty Beauty by Rihanna Pro Filt'r Soft Matte Longwear Foundation
If you find yourself "lookin' busted" (Rihanna's words, not ours) for whatever reason, try the full-coverage foundation that launched a million shades. The formula feels lightweight on the skin but puts in the work, leaving your entire face with a soft, matte, airbrushed finish all day long, like it has never met a pore in its life. And if shade-matching has been a longtime struggle, Rih's got you: Pro Filt'r comes in 50 different shades, so you don't have to settle for "close enough."
The Best Lightweight Foundation
Shiseido Synchro Skin Self-Refreshing Foundation SPF 30
If your past experiences with foundation can be generally summed up as "cakey," this formula will help make amends. It's comfortable, flexible, and melts onto skin, like those sleek, liquid-looking leggings that are so comfy and cooling you convince yourself they are indeed pants so you can wear them all day. You can easily wear this foundation all day without rationalizing; it has SPF for when the sun is still up, and a fresh-looking glow that will still be there when the sun is long gone.
The Best Foundation for People Who Hate the Feeling of Foundation
KVD Vegan Beauty True Portrait Medium Coverage Shake Foundation
If putting any pigment on your face whatsoever feels like a necessary evil, you'll love this medium-thickness blurring foundation. The liquid-to-powder formula is so lightweight and silky, it feels more like a serum, one that was made for easily applying with your fingers. You'll truly forget you're wearing anything but moisturizer until you catch a glimpse of yourself in the mirror and realize how uncharacteristically glowy you are.
The Best Clean Foundation
RMS Beauty "Un" Cover-Up Cream Foundation
Ever since Rose-Marie Swift launched RMS, she's perfected this magic balance of clean and nourishing formulations with seriously dewy payoff. A few small strategically placed dabs of this rich creamy foundation, anchored by Swift's signature cold-centrifuged coconut oil, are enough to cover an entire face. It's soft enough to let your fingers do the blending. The glow it imparts will make you wonder how you managed to live without this stuff.
The Best Skin-Care-Foundation Hybrid
ILIA True Skin Serum Foundation
The skin-care ingredients in this foundation (aloe-leaf extract, jojoba oil, mastic) support founder Sasha Plavsic's belief that taking care of your complexion is a double-duty job. Its liquid formula, which comes in 18 shades, is better for those who prefer light to medium coverage, but it's easily buildable should you need more or want more.
The Best Concealer and Foundation
Kjaer Weis Cream Foundation
Three oils (coconut, sweet almond, and jojoba seed) are in this formula, which probably explains why its solid form feels like a sturdy lip balm that happens to have pigments. You can blend it in with a foundation brush or use your fingers if you want to spot-apply it as a concealer.
The Best Full-Coverage Foundation
CHARLOTTE TILBURY Airbrush Flawless Longwear Foundation
This is the foundation universally beloved by drag queens, sexy older ladies, and anyone who wants their skin to look otherworldly. This isn't a light foundation — it will completely cover every pore, whether it has a blemish or not. But the thick formula feels pretty weightless and is easily blendable. It will absolutely make your skin look filtered, and it comes in 44, wide-ranging shades.
The Best Foundation for Rich-People Skin
Clé de Peau Beauté Radiant Fluid Foundation
If you want a foundation that your grandma, mom, and fancy aunt will also all love, it's this one. The soft blurring action makes skin of all ages look flawless, glowy, and bright. It gives a refined, nurtured quality to skin that makes it look expensive. Despite the luxury price point, a little goes a long way and the results last all day.
The Best Foundation for When You're Kind of Lost
Flesh Pure Flesh Liquid Foundation
If you still aren't sure where to start this far down on this curated list, give this well-rounded formula a go. It's medium coverage, creates a natural, skin-looking (not cake-looking) finish, and is infused with skin-care ingredients (aloe vera, glycerin, squalane) that help if you're worried about suffocating your skin. It's on the reasonable end price-wise, and the skin-tone-driven line sets you up with 40 shades and holds your hand through identifying undertones so you can find your true match. You can do this!
The Everyday Favorite
It Cosmetics CC+ Cream With SPF 50+
It calls itself a CC cream, but friends know to call it a foundation. Although the formula might look alarmingly thick right out of the tube, it blends with very little effort to make skin look airbrushed. And since it's a sort of hybrid product, you can use it to quickly buff over redness, under-eye circles, and blemishes. The best part: It works well on all skin types, including those with eczema and psoriasis.
The Foundation Meghan Markle Uses
Dior Backstage Face & Body Foundation
This is the foundation that goes best with a tiara. Worn by Meghan Markle on her wedding day, it gives a pretty, believable skin-brightening effect. And the feel is very light, almost like that of a tinted moisturizer. It also comes in a convenient and secure squeeze top, making it great to tote around for travel.
The Best OG Foundation
Bobbi Brown Skin Foundation SPF 15
In the early days, Bobbi Brown was one of the first makeup artists to create a diverse foundation range, with 30 shades. The undertones were just right, so it quickly became a favorite of Oprah and Naomi Campbell (she was shade #8). The foundation is still a big hit backstage and among makeup artists for its easy, blendable coverage that looks like real skin.
The One That Can Replace Everything in Your Skin-Care Regimen (Except Soap)
Iris&Romeo Best Skin Days
Let's say you're tired of applying serum, then moisturizer, then foundation, then sunscreen (or would that be sunscreen, then foundation?), or maybe you just want more room in your medicine cabinet. This medium-coverage base has a host of ingredients that emulate what all of the aforementioned products do — but also contains enough pigments to be a foundation. And if all that isn't enough, its formula is clean.
Source: thecut.com